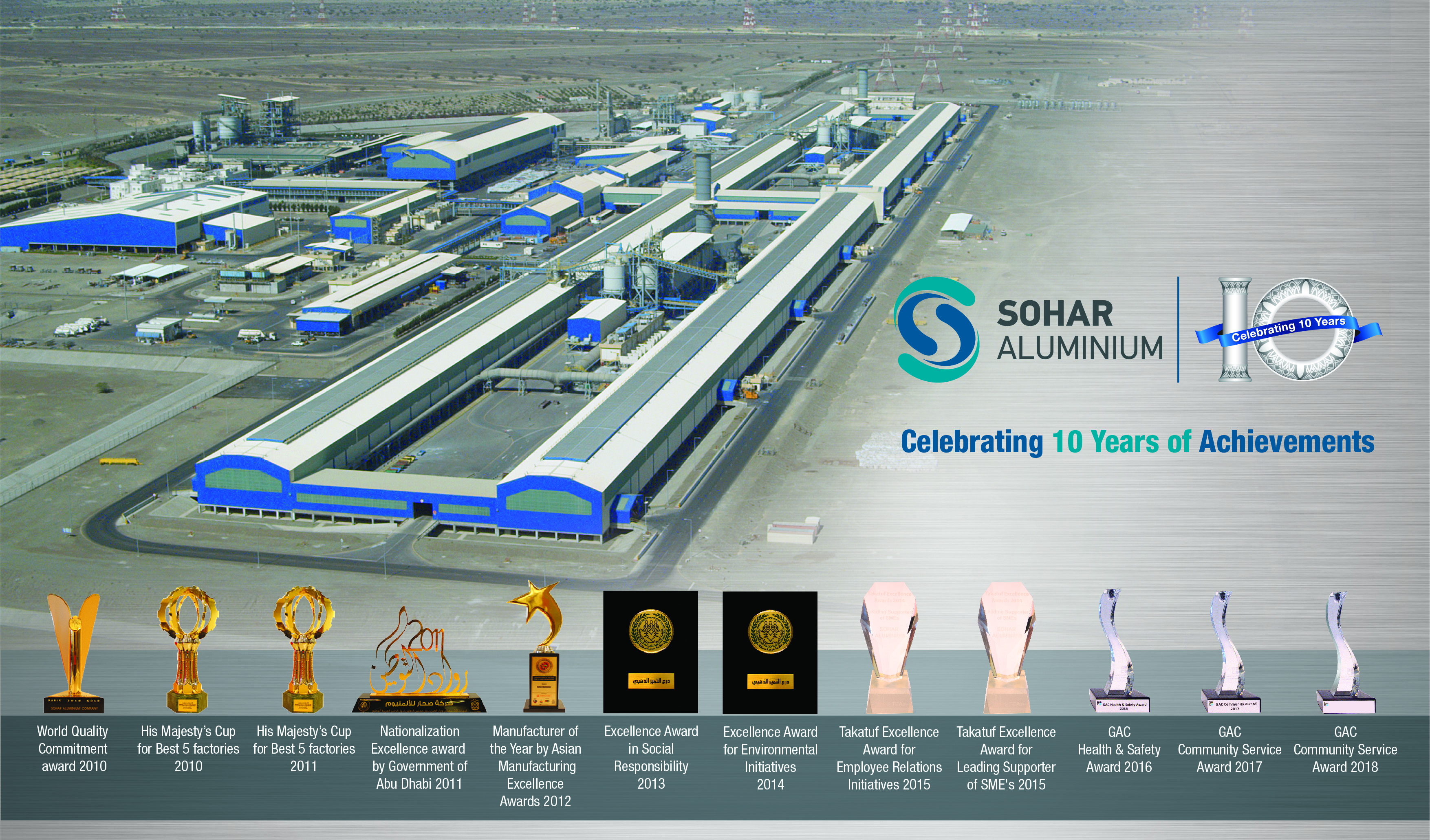 Sohar Aluminium is 10
At the end of April 2019, the Sohar Aluminium smelter in Oman turned ten years old. Here are few things to know about the company, its products and its people as they celebrate its first decade of operations.
Sohar Aluminium was inaugurated on 29 April 2009, and is the Sultanate of Oman's first and only greenfield aluminium smelter. Rio Tinto owns a 20% stake in the company – the other shareholders are Oman Oil Company and Abu Dhabi National Energy Company (TAQA).

The smelter has produced more than 3.7 million tonnes of aluminium since it came on-stream. Sohar Aluminium also operates a dedicated, custom-built port facility at the Port of Sohar, which can handle vessels up to 75,000 tonnes.

Initially based on the AP35 technology operating at 350 kA, Sohar Aluminium has creeped its production in the 2010's, converting its pots to the latest AP40 smelting technology.

As Sohar Aluminium is Oman's only aluminium smelter, the company invested heavily in education for Omani people in fields like engineering, maintenance and operations, and also set up its own training centre. By 2019, Sohar Aluminium's workforce was 76% Omani – the company's highest-ever figure for national employment.

The company also supports local economic development by identifying goods and services that can be sourced from local suppliers and manufacturers. While some products have to be sourced from overseas, on average Sohar Aluminium buys 58% of its goods and services – excluding raw materials – locally.

60% of production is earmarked for sale as liquid metal to local downstream industries, while the rest is exported as solid aluminium.

To celebrate its first ten years, the company invited employees and their families on tours of the smelter. "It is especially fitting that we mark Sohar Aluminium's tenth anniversary with our employees and contractors who worked diligently to consistently deliver success and also the family members who supported them during this successful journey," said Sohar Aluminium's chief executive officer Said Al Masoudi.